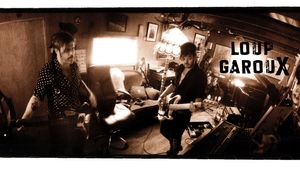 NEWS
SIGNATURE BREW LIVE SHOW FRIDAY 4TH FEB 2022
We're playing LIVE! February 4th! 
At Signature Brew, Blackhorse Road! 💥🐺💥 with support from @tombrightmusic 
Here's a brief information film on what to expect! 💥🐺💥 
Tickets available from Dice.Fm - or hit tha link in the bio page! 
See you there! Luv 💥LGX 💥
https://dice.fm/partner/signature-brew/event/3dogg-loup-garoux-tom-bright-4th-feb-signature-brew-blackhorse-road-london-tickets?dice_source=web&dice_medium=organic&dice_campaign=Signature+Brew&_branch_match_id=403123884275245084&_branch_referrer=H4sIAAAAA
DEBUT ALBUM STRANGERLANDS OUT APRIL 28th - PRE-ORDER NOW
We're genuinely thrilled to announce that Loup GarouX are releasing the (phenomenal) debut album "Strangerlands" on October 8th - with the pre-orders available to order through our BandCamp now: There's a link to take you straight there HERE!
Strangerlands will be released on October 8thas a Digital Album with Bonus PDF Poster, Deluxe Double-Gatefold Vinyl and Limited Edition T-shirt Bundle and Standard Deluxe Double Vinyl with Bonus Photo Print. The very first 100 vinyl are hand-signed by the band too.
"I couldn't really be happier with this record. Truly. It's the strongest, most complete and accomplished record I've ever had the pleasure to make. The odd... juxtaposition, is that while the music and lyrical subjects run ragged through.... well - feelings of terror, rage, fierce love, blinding light, joy, revenge, NDE's, reincarnation... feelings of genuine disassociation, fevered obsessions, incredible betrayal, overcoming visceral grief, losing old lives and attachments, and finding new light and new loves – the actual act of creating this was the easiest, most fun and made with such a sense of unbridled & joyous abandon I've had the pleasure to experience… 
It's a stunning, magical, melodically gifted & supremely hopeful & powerful document. Yeah – this is the record I'm most proud of. Without a doubt. I can't wait for people to hear it - here, live or otherwise!" – Cass Browne 
The album was written, recorded & self-produced by the band in Ed Harcourt's own Wolf Cabin studio. Then mixed to a *shiny perfection* by the legendary Cenzo Townshend at Decoy Studios, and finally mastered by the "golden ears" of Miles Showell over at Abbey Road.  
And - if you pre-order Strangerlands - you will also go into the draw for a one-off private live streamed gig for you and your compadres. We are also giving away 5 exclusive-signed Vinyl Test Pressings of the album - all you have to do is pre-order to go into the draw. Nice!
 NEW MUSIC
Loup Garoux released released a killer new single, "Seance" from the album, last week. You can watch the storming performance video, created by Gary Simpson, for the song  here and you can stream it by clicking here. One of LGX's finest to date, we believe.
Seance was premiered by Daniel P Carter on Radio 1.
STRANGE ANGELS VIDEO
The Simon Hilton directed video for Strange Angels premiered on NME this week. You can read about it HERE
NEW SINGLE 'STRANGE ANGELS'
Loup GarouX is thrilled to announce that we will release a new single, Strange Angels on May 22.  The song was performed on our UK tour with Supergrass and will be accompanied by a video shot by Simon Hilton. Look out for a link to the song and video on all socials and here at this site from May 22. 
Strange Angels
Strange Angels, the second official single from Loup GarouX is out now! Watch the video directed by Simon Hilton below.
Painter of Trophies - limited edition 7 inch red vinyl available now from the stores listed below. You can also join our mailing list for a FREE digital download.
Rough Trade East / Rough Trade West / Rought Trade Nottingham / Rough Trade Bristol / Resident Brighton / Drift Totness / Norman Records Leeds / Piccadilly Records Manchester / Jumbo Records Leeds / Reflex Newcastle / Assai Edinburgh / Assai Dundee / Action Records Preston / Crash Leeds / Monorail Glasgow / Bear Tree Sheffield / Sound It Out Stockton