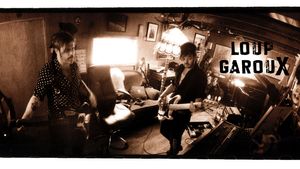 NEWS
BLINDSPOTS (NEW SONG) OUT NOW
FEB 2023
 Howdy y'all! 
Hope you've all had a trippy start to the New Year and are looking forward to the fabulous next instalments here on the *Fun City* of Earth! There's a few bits of news today – a brand new single just released, "Blindspots" and also a new fabulous (gorgeous) deluxe print release too.
 Songwriting - it's an… odd, organic and fluid process. And each song seems to demand a different method to get it to spring to life. Unorthodox and idiosyncratic. Sometimes fire, and sometimes – yes - sexy. 
We have maybe 30 or 40 tracks written now, but more are still coming! Thick and fast now. With that we're going to be picking out the *final selection* and then we're…. going in to finalise recording at end of April / early May! We're really excited to get these new tracks out, and – to get them in the live sets for the summer!! We'll be announcing those dates and appearances soon, when we're good to go. 
But, as we can't really wait that long ourselves, we're going to be throwing some other stuff straight up n' out in the meantime. It's a real joy and relief that with the wonders of modern technology we can do that now, so think we'll be doing more of this. 
And with that - there's a brand-new track – in its raw demo form – beamed into the ether now. This one's called "Blindspots". Written and finished started to finish one hazy wintery day in The Wolf Cabin in the last week of January. Cass had sacked himself for the afternoon and decided that to "go with the drum machine then" was the best plan. He then 180-ed, and joined in halfway through. The combination is a thrilling texture. A glacial, motorik glide through a landscape of thundering sub-sonic bass-lines, fractured sweet guitars, damaged keyboards and warm layered harmonies. This came out in one complete and instant burst, so we thought we'd put it out for you in the same speed! 
"Blindspots" is available as a download right now through: 
LOUP GAROUX - BANDCAMP
 https://loupgaroux.bandcamp.com
 VIEW THE VIDEO BELOW
 "THE WOLF CABIN" – EXTRA LARGE - STEVE GULLICK PHOTO ART PRINT 
A gorgeous Extra Large Full-Colour Latex Art Print of the stunning original Steve Gullick photo, as used for the Strangerlands album inner artwork! 
Measuring a full 920mm x 420mm, this deluxe print release is on a heavy 200gsm paper stock with a lush photo Satin Finish. A *truly beautiful edition and looks incredible when framed*. This very limited print release is in stock and shipping now! 
All orders of this print will receive a free download of the new single "Blindspots". 
*Please Note - While all UK orders are currently fast and trouble free, there may be possible slight delays to European and International orders, due to ongoing issues within the Royal Mail. Every effort will be made though to reduce any delays wherever possible.
Strange Angels
Strange Angels, the second official single from Loup GarouX is out now! Watch the video directed by Simon Hilton below.
Painter of Trophies - limited edition 7 inch red vinyl available now from the stores listed below. You can also join our mailing list for a FREE digital download.
Rough Trade East / Rough Trade West / Rought Trade Nottingham / Rough Trade Bristol / Resident Brighton / Drift Totness / Norman Records Leeds / Piccadilly Records Manchester / Jumbo Records Leeds / Reflex Newcastle / Assai Edinburgh / Assai Dundee / Action Records Preston / Crash Leeds / Monorail Glasgow / Bear Tree Sheffield / Sound It Out Stockton